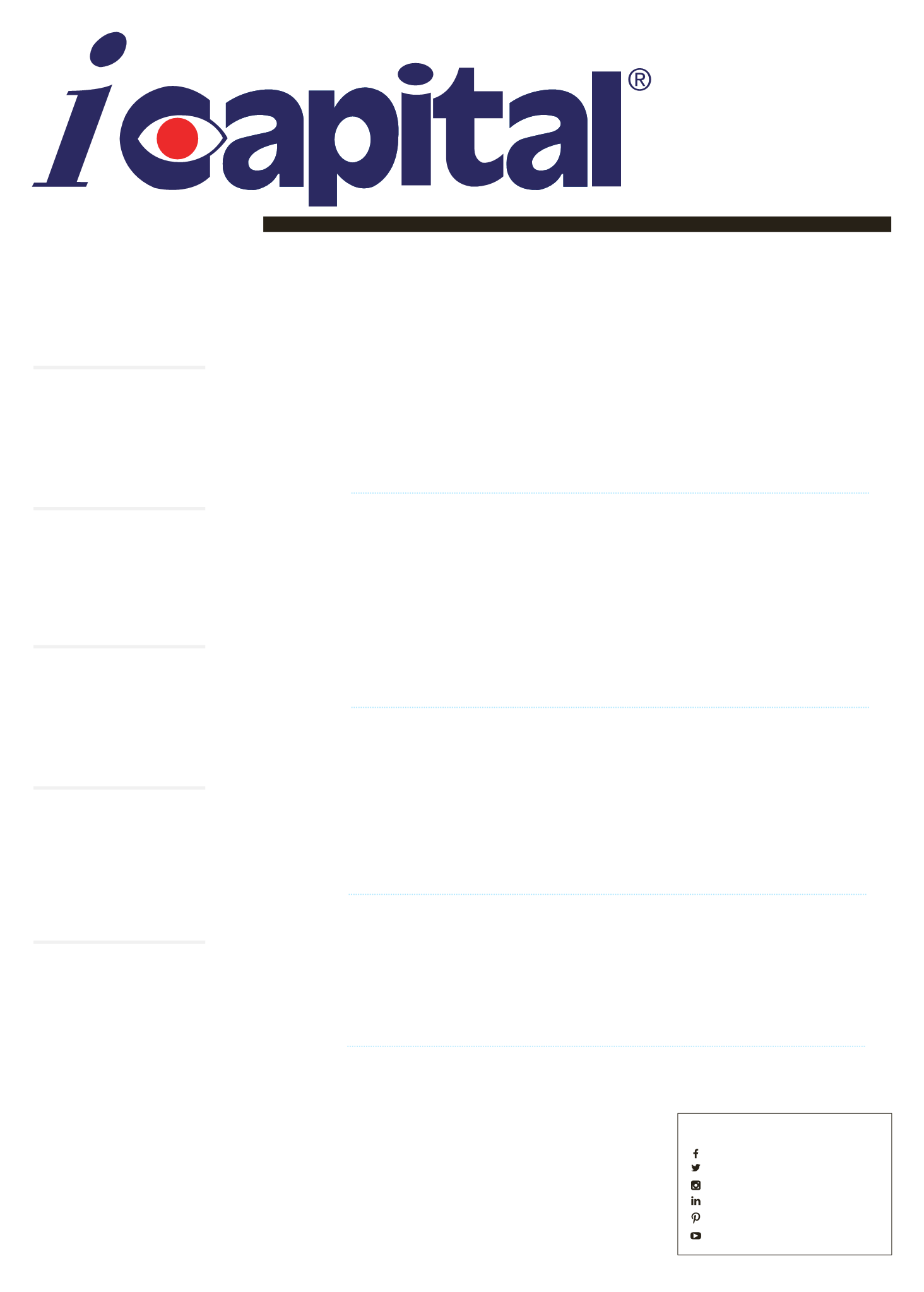 VOLUME 28, NO 1
"
Writing a new volume
of
i
Capital is always a very emotional
experience for me. The feeling is like reaching the top of Mt Everest or
Qomolangma. After writing
i
Capital for 27 years, it is hard to describe
the feelings. They are intense, and they are still as strong as writing
volume 1, number 1 of
i
Capital. 27 years ago, I was the only analyst,
writer, proof reader and editor."
(PAGE 14)
POSSIBLE RATE HIKE?
"From these obvious conclusions, there are some obvious questions.
The US core consumer price index can drop to deflationary territory or
the almost zero federal funds target rate has to rise. Therefore, the first
obvious question is this : with the US economy creating a healthy rate
of jobs, with her wages and inflation rate trending upwards, can the
almost zero federal funds target rate still stay so low ?"
(PAGE 10)
CHINA RESCUES HONG
KONG AGAIN?
"The Hong Kong stock market has of late been performing well.
Reason ? China is back on the rescue again."
(PAGE 11)
INCITEC PIVOT
"At A$2.85, IPL is capitalised at A$4.81 bln. For this, what do investors
get in return ?"
(PAGE 24)
Malaysia
In 2Q 2016, Malaysia's real GDP rose by 4%,
year-on-year, a slower growth rate compared
with the preceding quarter. This was mainly due
to weaker performance of the manufacturing...
( Page 2 )
Japan
In 2Q 2016, Japan's real GDP rose by a
SAAR of 0.2%. Growth was supported mainly
by government spending as net exports
subtracted 0.3 ppt from growth in 2Q 2016. On
a year-on-year basis, the economy
rose 0.6%...
( Page 5 )
United States
In Jul, the seasonally adjusted producer price
index (PPI) for final demand fell by 0.4% from
Jun due to the declining costs of foods and
energy. Excluding foods and energy, the core
PPI remained unchanged from the
previous month...
( Page 4 )
Australia
In Jul, the sales of new motor vehicles
slipped 1.3% from Jun in seasonally adjusted
terms, with the sales of passenger vehicles
contracting by 5.2%.In trend terms, the
sales of motor vehicles edged up by 0.1%,
month-on-month...
( Page 9 )
Local Stock Selection
This week
, i
Capital provides an update on
UMW Oil & Gas Corporation Bhd (UMW OG)
which was listed on the KLSE in Nov 2013.
The last time
i
Capital did the write up on the
company was almost a year ago. How have
things changed for this one-time favourite of
the investor community...
( Page 22 )
KLSE Conclusion
As I write volume 28, number 1 of
i
Capital,
we are still working very hard to put a closure
to the decision made in the 2009 EGM of
icapital.biz
Berhad. In that EGM held about 7
years ago, empowered by the share owners,
the then Board of Directors of
icapital.biz
Berhad delegated to Capital Dynamics...
( Page 14 )
Intelligence
Independence
Integrity
The Stockmarket Specialist
18 August – 24 August 2016
Volume 28 Number 01
icapital.biz
Registered Trademark of Capital Dynamics Sdn
Bhd. Copyright 1989. All rights reserved. No
part of this publication may be reproduced.
If undelivered, please return to
Capital Dynamics Sdn Bhd
PO Box 12668,
50786 Kuala Lumpur, Malaysia
This publication is based on information obtained from sources
believed to be reliable but we do not make any presentations as
to its accuracy or completeness. Any recommendation contained
in this publication does not have any regard to the specific
investment objectives, financial situation and particular needs
of any specific addressee. It is published for the assistance of
recipients but it is not to be relied upon as authoritative or taken
in substitution for the exercise of judgements by any recipient.
This document is not nor should it be construed as an offer or
a solicitation of an offer to buy or sell any securities mentioned
herein. Readers should not assume that recommendations made
in the future will be profitable or will equal performance listed
here or recommended in the past. All information and opinions
expressed are subject to change without notice. The publisher,
its associates and/or employees may from time to time have a
position in the securities mentioned in any issue.
Promotional subscription rates:
Valid till 18 Sep 2016. Subject to change.
RM99 for 46 weekly issues.
(Print + Online + eBook)
RM49 for 365 days.
(Online + eBook)
Tel :
03 – 20 70 21 04 or 05
Fax :
03 – 20 70 21 03
Website:
www.icapital.biz
Email :
myaccount@icapital.biz
FOLLOW US ON
/capitaldynamics.icapital
@CapitalDynamics
/capital_dynamics
/company/capital-dynamics-group
/capitaldynamics
/CapitalDynamics_iCapital
Publisher
Capital Dynamics Sdn Bhd (171744-U),
16th Floor, Plaza First Nationwide,
Jalan Tun HS Lee, 50000 Kuala Lumpur, Malaysia
Printer
Twinstar Synergy Sdn Bhd (987235-X)
Lot 2A, Jalan 13/2, 46200
Petaling Jaya, Selangor Darul Ehsan
Lic IA. 22 KDN PP 6235/08/2013(032671)